Better Call Saul Bingo Season 1 Review
SPOILER ALERTS: All reviews of Better Call Saul most likely contain spoilers, so do not read if you haven't watched the episode.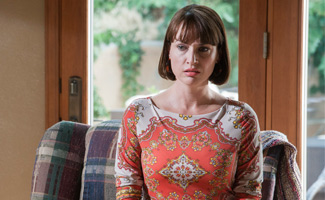 I still can't believe how many doubters I heard piping up that Better Call Saul would stumble to find its momentum upon it's debut, but we're less than 10 episodes into this new series and it seems to be flying quite well so far.
I'm loving the new characters and the previous episode, Five-O,  which gave us a very grim look at Mike's backstory, was a work of high art.
If you haven't watched that one yet, get on that shit. NOW.
During this week's episode, I have to say that I could sympathize with good 'ol Jimmy.
With the $30K bribe he netted from the Kettlemans, he was well on his way to opening up a brand new office that would have impressed the likes of Don Draper.
Too bad psychotic alpha female Betsy Kettleman put Saul in a position that would force his hand into either implicating himself in their crime or forfeiting his acension.
Thankfully, his smarts prevailed.
I don't know about you, but there is something oddly hot about Julie Ann Emery, the actress who poured such vivd life into this closet-gangster from the 'burbs.
Hopefully, the writers will find a way to weave her back into the fabric, and given that her husband will be forced into accepting a minimum two-year prison term, I can see many ways/reasons she can cross paths with Jimmy again at some point in the future.
During this episode, I couldn't help but be reminded of the final episodes of Breaking Bad in which Jimmy (by then Saul), once again is found starting from scratch (at least he isn't broke this time around) and thinking that this really will be the course of the series as exemplified by this episode.
Poor old Jimmy will be the perennial Al Bundy of his industry bouncing from one spirit-shattering failure to the next until he finally finds some semblance of normalcy by the time we catch up to him in Breaking Bad.
Overall, good episode, but topping the intensity of Five-O will be very tough indeed.
Highlight of the episode: Betsy Kettleman and her insane neuroticism.
______________________________________
Get The Ultimate Lifestyle Playbook Free

This is a fast-paced 3-week course taught by email to empower you with the tools you need to master your life
Week #1: Mastery Over Habit – Take back your mind & break the habits that hold you back, while rapidly building the ones that push you forward
Week #2:

Wealth Building V.3– Discover which income-building models are best for your

personality

type

and then find out how to maximize your income's potential

Week #3: "Turn On, Tune In, Drop Out" – Shift your mind away from conventional "rules-based" thinking, amplify your imagination and problem-solving skills…and enjoy a happier day-to-day life.

F